DRAGON IN THE LAND

Mouse over to enlarge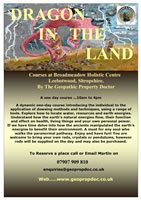 DOWNLOAD & PRINT in PDF

A one day course ...10am to 4pm


A dynamic one-day course introducing the individual to the application of dowsing methods and techniques, using a range of tools. Explore how to locate water, resources and earth energies. Understand how the earth's natural energies flow, their function and effect on health, living things and your own personal power. If we have time delve into how the ancients manipulated the earth's energies to benefit their environment. A must for any soul who walks the paranormal pathway. Enjoy and have fun! (You are welcome to bring your own rods, crystals or pendulums, however rods will be supplied on the day and may also be purchased).
Thursday 8th July 2021
Price of Course £55
Paranormal & Entity Workshops
Mouse over to enlarge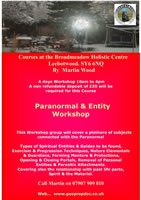 DOWNLOAD & PRINT in PDF
For those who wish to understand the Spirit world a Little better.
Thursday 22nd July 2021
Price of Course £60