THE WIZARD IN THE STONE

Mouse over to enlarge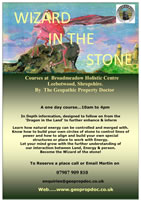 A one day course...10am to 4pm

Designed to follow on from the 'Dragon in the Land'. Learn some in depth energy control & how natural energy can be controlled & merged with. Know how build your own circles of stone to control lines of power and how to align and build your special structures or place to work with energy. Let your mind grow with the further understanding of our interaction between Land, Earth Energy & person. Become the Wizard of the stone!
2018 Leebotwood

Thursday June 14h
Sunday July 1st



DRAGON IN THE LAND

Mouse over to enlarge



A one day course ...10am to 4pm



A dynamic one-day course introducing the individual to the application of dowsing methods and techniques, using a range of tools. Explore how to locate water, resources and earth energies. Understand how the earth's natural energies flow, their function and effect on health, living things and your own personal power. If we have time delve into how the ancients manipulated the earth's energies to benefit their environment. A must for any soul who walks the paranormal pathway. Enjoy and have fun! (You are welcome to bring your own rods, crystals or pendulums, however rods will be supplied on the day and may also be purchased).


2018 Leebotwood

Wednesday June 13th
Saturday June 30th